Spinner VC1150 Compact Machining Center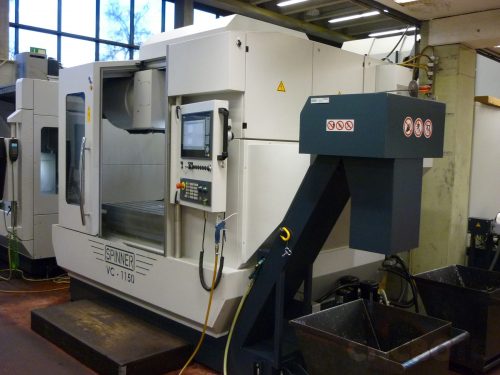 Product code:

141021
Location:

Peiting, Germany
Fully Functional Machine
This machine was tested electronically and mechanically
Visit This Machine
You are welcome to visit and test this machine in person
Transport and Logistics
We will gladly organize the transport of this machine to your location
Machine Data
| | |
| --- | --- |
| Machine type | VC1150 Compact |
| Year of manufacture | 2019 |
| Control | Siemens 840DE |
| Travels | X 1.150 mm Y 620 mm Z 600 mm |
| Main spindle | 10.000 Upm Mmax 119 Nm Pmax 19 kW |
| Tool holder | SK40 DIN69871 |
| Tool changer | 32 Werkzeugstationen |
| Functionality | Tested and fully functional |
| Condition | Used |
Other Information and Included Equipment
Tragbares Handrad für 840D-SL
CNC Rundtisch Type Spinner-VRNC210 mit hochpräzisem Schneckenantrieb
Universal-Späneförderer
Hochdruckspülung 22 bar
Zusätzliche Blasluft am Spindelstock
Spülpistole im Arbeitsraum
Vorbereitung Spinner-Standardmesstaster
Kabelloser Spindeltaster Spinner-Blum mit Werkzeugaufnahme passend zur Frässpindel
Transport Solutions From A to Z
Thanks to our ultra modern electric forklift fleet of up to 16 tons, state-of-the-art transport equipment and our various transport partners we will get your new machine safely to you.
Tools for Your New Machine
We cover an extensive range of immediately available new and used tools in our warehouse. Let us help you find the perfect tool package for your new machine!
Let us help you find a machine
Call us
Give us a call and speak immediately with us. We'll answer your call Monday till Thursday from 9 am till 5 pm, as well as Friday from 9 am till 2 pm (German time).
+49 (0) 8861 6943120
WhatsApp
Chat with us on WhatsApp! Simply add a new contact with our WhatsApp number and start a new conversation. If you're already on your phone you can also click on the number below to directly start a new conversation.
+49 173 4064719
We usually reply within 2 hours during our business hours (Monday till Thursday from 9 am till 5 pm, as well as Friday from 9 am till 2 pm (German time)).
Location

Zechenstr. 10, 86971 Peiting, Germany
Show location in Google Maps